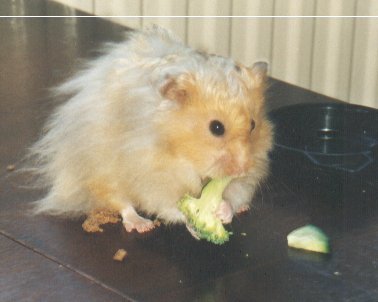 FUDGE
Fudge is one of Amber's babies (from Highworth ). He was re-homed by Jennifer and Nicholas at the age of 7 weeks. They chose him when he was only three weeks old and came to visit him regularly until he was ready to leave his mother. He is a very handsome boy with long, silky fur and curls on his neck. He is a very sociable hamster and comes to the front of his cage for a cuddle when he hears the familay come home. He loves to explore the sitting room and have lots of attention. He likes fruit and his favourite vegetable is broccoli. He had a birthday party when he was one year old and the "guests" included other hamsters, gerbils, dwarf hamsters and two giant African land snails! (plus their owners).
He has been to several shows and loves to be groomed. He enjoys being handled and always behaves for the judge i.e. no biting.
Since getting Fudge, the family has been biten by the hamster "bug" and now have three others as well; Raisin (a Syrian), and Rum and Rascl (two Dwarfs).
Back to INDEX