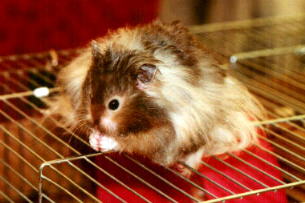 On the following pages you will find lots of information about Hamsters. We list all the UK hamster Clubs, many hamster clubs from other countries plus we list all known hamster shows in the UK. You will be able to look up the results of all the National Hamster Council shows over the last few years. Looking for information on hamsters? Look no further. Information leaflets on many aspects of hamster keeping and a Hamster FAQ. We even have a photo gallery where you can display a picture of your hamster. Our links page is full of place to go for more hamster information and fun.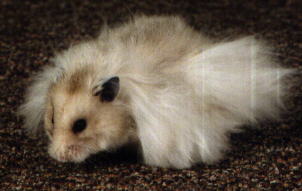 All about us
Towy Vale Hamstery is the Prefix under which we (Christine and Peter Logsdail) show our Hamsters. We do this as a hobby although it does take up most, if not all, our spare time. It all started one day when our daughter replaced her hamster. One week later we had mum and seven babies. That was back in 1985 and we now keep around 50 adult hamsters plus babies.
We started to show in November 1985 and slowly got involved in the running of the club and later help with the running of the National Hamster Council. We attend shows all over England and Wales,give talks to local groups and also put on displays. Our main display are in conjunction with Living Heritage.
For the displays we will be attending this year click here.
To see if there is a Display or show near to you click here
As we are in a tourist area and our Hamstery is easily accessible we do allow members of the public to have a look around. ADMISSION IS FREE . We are open whenever one of the family is available to show you around. This is a chance to see some of the colours and coat types not normally seen in Pet Shops. You may also be lucky and see baby hamsters. If you are making a special journey please telephone before hand to save disappointment.
In January 2002 a book written by us and our local vet, Kate Hovers BVSc, MR, was published. It is called Hamsterlopaedia, publishished by Ringpress Books (ISBN 1 86054 246 8). It is 174 pages of information on hamsters including the history, Choosing and caring, breeding, showing, A - Z of hamster diseases and the anatomy and physiology of hamsters. We spent many mouths reasearching and writing this book with help from many of our friends in the Fancy.
Any suggestions for further improving our it would be appreciated.